1. Arrangement of Outdoor Fitness and Gym Equipment

How to arrange the training equipment? When we are designing the area for an outdoor fitness park, we have to bear in mind that each equipment has its own safety zone - a space that should be kept between the items to allow users to perform the exercises safely and comfortably. Depending on the size of your area, you can choose one of the following options:


A. Multifunctional training set




If an area for outdoor fitness is small, choose just one but multifunctional outdoor fitness device. (Check for example the metal training set New Age Fit.) Thanks to that you will save space and still provide the users with a full training set to exercise all parts of the body.


B. Fitness trail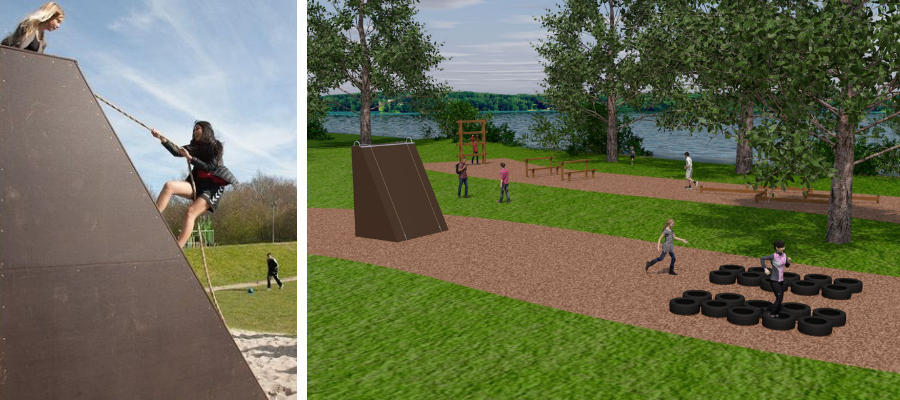 A trim trail is a functional solution if you plan to design a fitness area along a jogging route in a park, in a forest or by a river. Fitness trails may include wooden ladders, a net, a climbing ramp, equipment for balance exercises, tires, jumping hurdles and others.

Check our fitness trail design plan!

C. Outdoor gym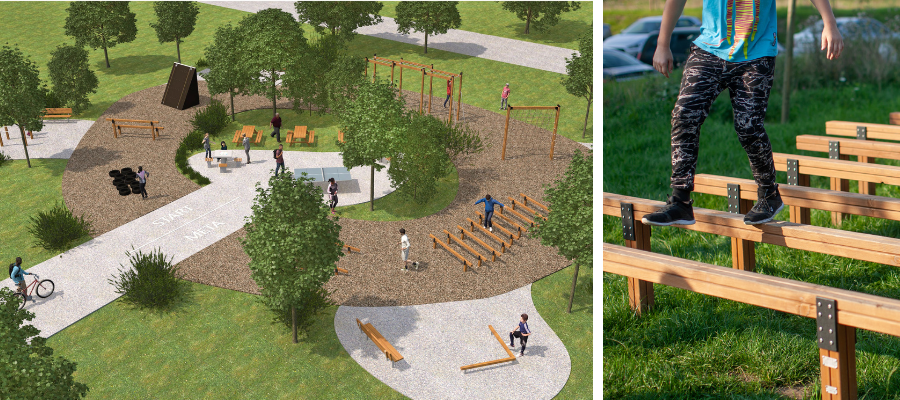 The main fitness equipment can be situated inside the circle while the additional exercise stations located outside. The advantages of this arrangement are that all the training equipment is gathered in one place which facilitates a quick daily training and supports the integration of the local community.

Check our outdoor gym design plan!

D. Sport and Leisure Facilities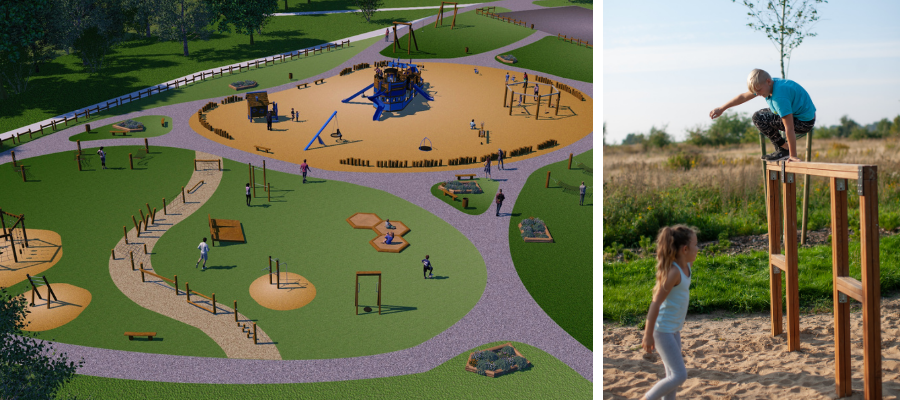 Another option is a whole recreational zone that includes the outdoor gym / trim trail for adults and the playground for children. While designing, we just need to remember that the areas of the playground and outdoor gym should be separated from each other, for example by a fence, hedge or even a pedestrian path.

Check our recreational zone's design plan!


2. Outdoor Fitness Users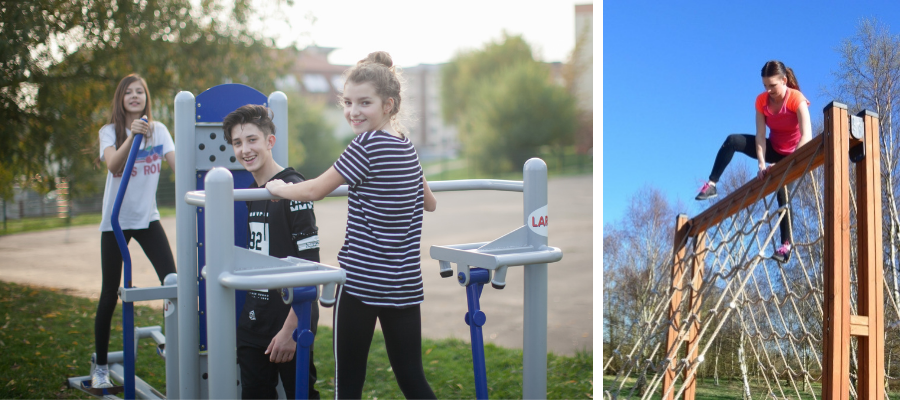 The fitness equipment should meet the needs and requirements of the potential users. We offer the wide selection of:
---
OUR TIP:
Check our solutions for outdoor gym equipment for seniors!
---
3. The Quality of Outdoor Fitness Equipment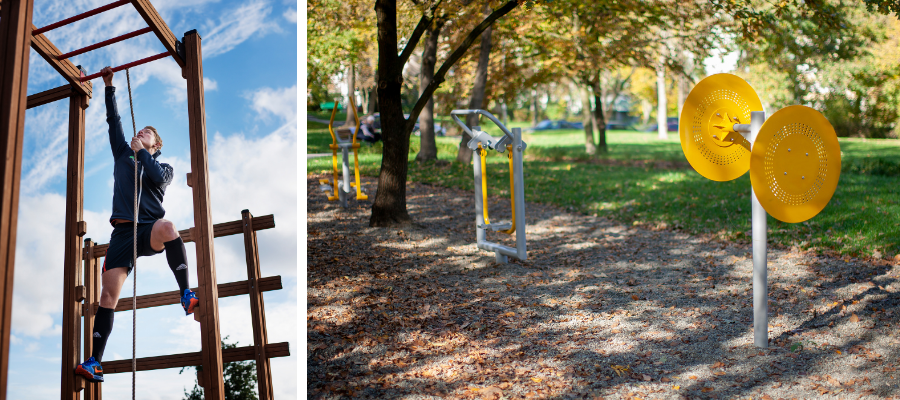 For public use, we should choose the highest quality equipment made of the durable materials such as metal or wood. Lars Laj wooden fitness equipment are manufactured from larch wood and acacia due to their exceptional resistance to weather conditions. The training equipment made of wood is not only functional, but also corresponds perfectly with the natural surroundings of recreational areas, parks and city squares.


4. Safety surface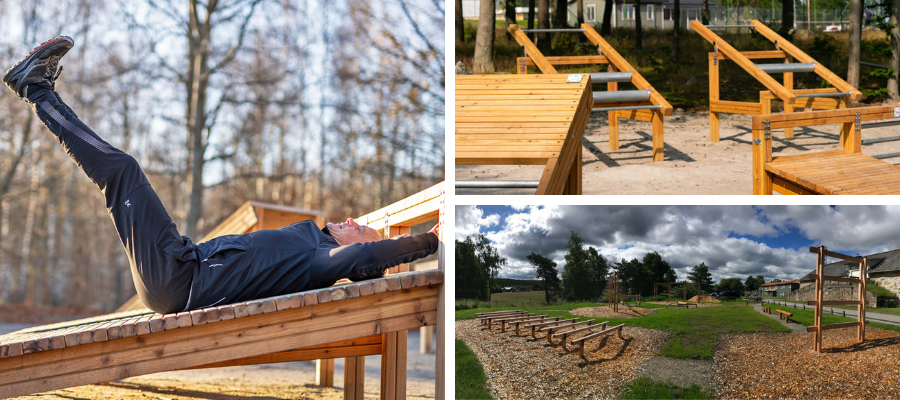 To ensure the users' comfort and safety, all outdoor fitness equipment should be placed on a safety surface.
---
OUR TIP:
Outdoor gyms and fitness trails are usually located in the vicinity of green areas: parks, squares, forests, rivers or seaside areas. To underline the natural beauty of the surrounding area, choose a natural safety surface, e.g. sand or bark, possibly grass mat tiles so the grass can grow through keeping it looking natural. using wooden fitness equipment keeping natural materials and surface will be the perfect complement to the green landscape.
---
Check our offer of wooden fitness equipment.


5. Outdoor Furniture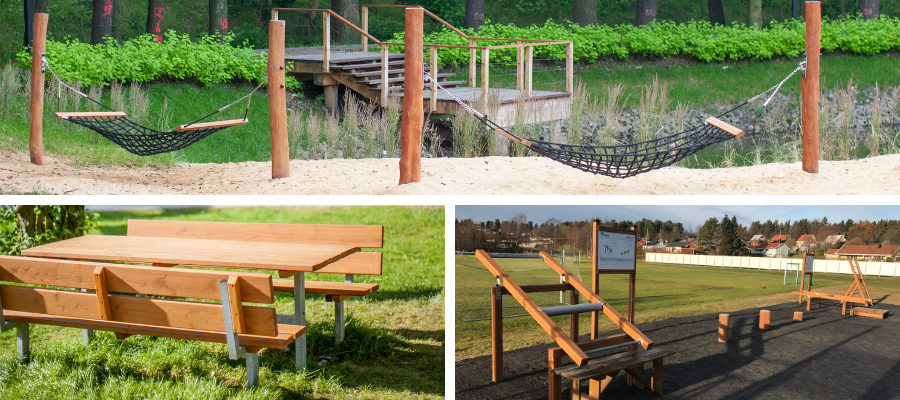 When you are planning an outdoor gym or fitness trail, apart from the outdoor fitness equipment we advise to add to the project:
If you are interested in creating an outdoor gym, a fitness trail, a playground with fitness equipment for children or other sport and recreation facilities open - contact us!
Together, we will create a dream place for outdoor exercising!