Great Ayton Play Park is back in full swing after a group of Mums formed a committee in 2012 and raised £25,000.
Lars Laj UK was selected to supply and install the
new play equipment
. Working closely with the Mums & Parish Council Martin Wood Consultant for Lars Laj commented:
"It was a pleasure to work with the committee of parents. They listened to the children and made sure that the new equipment was suitable and met the requirements of what the kids wanted".
Which included the giant
Multi play unit
the Space Station, which covers all varieties of play activities.
Climbing nets
,
slides
,
Climbing walls
,
Hanging bars
,
net and plank bridges
,
Fireman's pole
with platforms and towers.Also included in the park was an
Aerial Run Way
with Ramp.
Grass mat tiles
was used for
safer surfacing
.
A comment from Rachel Turnball:" It is great, as well as a relief, to see it all come together," said Rachel Turnbull, who has run the group alongside Susan Venus and Kathryn Macdonald.
We now don't have to drive elsewhere to a park, we can all remain in the village and have fun with our children.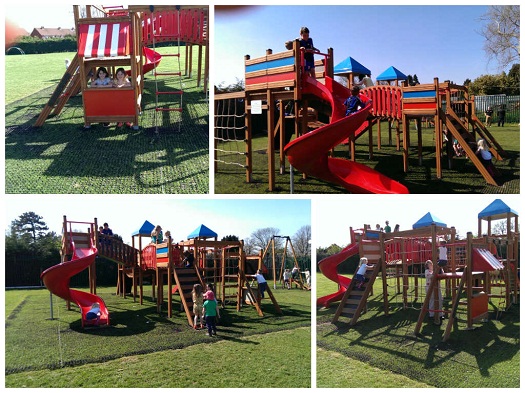 Zapisz