On the 12th of November, Ridgewell welcomed their County Councillor and Leader of Essex County Council, David Finch and District Councillor, Iona Parker at the Ridgewell Village Hall and Playing Field to cut the ribbon on their new play area.

Despite the heavy rain, many villagers and their young ones gathered to hear the speeches and witness the ribbon cutting. Nick Rouse, Chairman of the Hall Improvement Project spoke about the importance of community effort and their support in the projects realisation.  After the official part of the ceremony, the children happily hopped on the play equipment.



The Village Hall and Playing Field are extremely valuable assets for the Parish and have been used by a wide range of the community since 1957 (when it was built by public subscription) to meet the social, educational, leisure, sports and recreational needs. After serving the community for almost 60 years, it was time for an upgrade.
The revitalisation project is divided into two stages. The first one was finished this year, giving the outdoor play area a good spread of equipment for the age range 2-13 years. Lars Laj UK supplied and installed the Mastodont, Small Ship, Cable Way and a Junior swing, providing hours of fun for many years to come.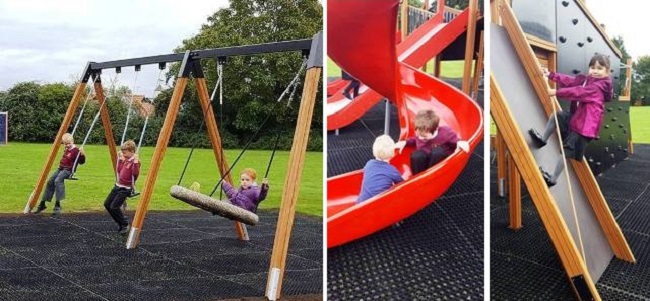 The second phase is planned for late 2017 and will include more Lars Laj play equipment: Baby swings, Merry Go Round, Seal springer and a trim trail. We look forward to helping the local community grow and enjoy their new play area even more.